We love to see you have those coffee &
conversation with your Family!
The Homemakers had a humble beginning in 1998, with a 3000sq ft showroom in Delhi. The company was amongst the first few in India to enter into the Modular Kitchen Segment. Co-founded by Neeti and Gautam Macker, both qualified professionals, the company began with the import of Italian Accessories, and later moved on to creating complete home interior solutions.
The Homemakers has set up its  retail store in Gurgaon and manufacturing facility in Rajasthan with the latest technology from Italy. The company has created a niche for itself and prefers to do only quality work. From Kitchens, Wardrobes, Beds and other household furniture to doing up complete interiors of a home, the company constantly strives to blend quality with thoughtful design leading to products that are aesthetically appealing and extremely useful. Today, the company can boast of an elite client list.
We aspire to convey the sense of passion we feel about our craft and our clients through our work each day. We hope to challenge and inspire generations of clients through design born of diversity, innovation, collaboration, laughter, and layers. Remove the ego and create a design that works—and wows.
Our mission is to positively influence the lives of all customers with whom we have the pleasure of working and leave a lasting impression on their minds and imagination. Our designs must inspire and elevate the hearts and minds of all those who lay their eyes on them. Our long-term goals are always in line with our core values. Our mission is to always go one step further – to offer exclusive customer service to our clients.
Wire Accessories
customized drawers and shelving systems for kitchens and wardrobes for the discerning few, who traveled around the globe extensively and looked for similar products as efficient organizers and space savers for their homes in India.
Modular Kitchens
As your story in its article puts it, "Meet Neeti Macker, the woman who brought modular kitchens to Indian shores in 1998"
Stainless Steel accessories
1st company to launch an entire range of kitchen accessories in 304 grade SS, with a Lifetime replacement guarantee against rust.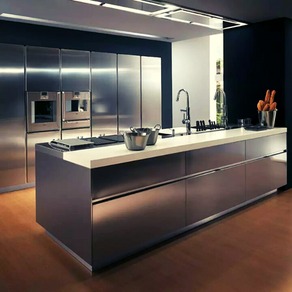 Stainless Steel Kitchens
Introduced the concept of stainless-steel kitchens in India in strategic collaboration with none other than the Jindal Group.
Mechanized Plant
Started operations at its state-of-the-art mechanized modular furniture plant in Bhiwadi.
Developer Division
After tasting success with residential projects PAN India, launched its developer division and worked with almost all prestigious developers in NCR.
It is a feeling like no other when you start a venture with a vision and get recognition for your focus, dedication, hard work, and commitment to providing client delight. Here are a few recognitions which gave us a pat on our backs and brought a smile to our faces:
"Entrepreneur "magazine and "Franchise India"
Contract and Commercial Design Award 2018
By CCD for workspace interiors, and work also showcased on the prestigious design wall.
Top 10 most promising Kitchen Service providers 2019
Silicon India Magazine also did a cover feature and story on "The Homemakers"
Manufacturing setup and facilities
The 8000 sq meter built-up area of our expansive plant in Bhiwadi, Rajasthan, is well stocked with raw materials and meticulously packed finished goods, and ready-to-be shipped furniture.
The state-of-the-art machinery and facility include a panel saw, multi borer, edge banding, hot press/cold press, CNC, and a paint booth, amongst others.
The company follows stringent quality checks, both at the time of raw material procurement and at various stages of the production process and before dispatch, to ensure only a perfect piece leaves our premises.
All plant and machinery have been procured from BIESSE, Italy, and our raw materials are selected after thorough research and study, as we strongly believe only quality inputs can yield quality outputs.
Cities where projects completed